Writing Vocabulary / How to Write An Essay
The process of writing is the way writers actually go about the task of writing. The writing process is flexible. Develop your own specific method. Use brainstorming and creative approach. Be assisted with the writing vocabulary.
The following chart illustrates the process of writing an essay by using prewriting, drafting, and revising. The term definitions provided below can be used as brief written notes during essay writing.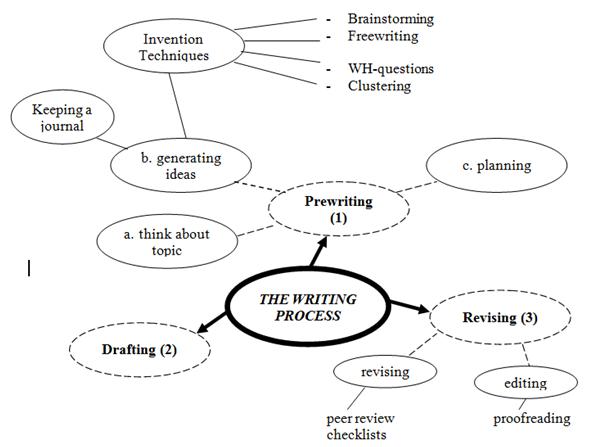 A brainstorm is a sudden insight or connection. It is the way to associate ideas and stimulate thinking.
Freewriting is writing without stopping.
WH-questions:
Who
What
When
Where
Why + How
Clustering is making a visual map of your ideas.
Drafting is the actual writing of your paragraph or an essay.
Revising is actually rethinking or reviewing your paper.
Revise means:
Add;
Cut;
Replace;
Move material around.
Proofreading is reading the paper to find any errors in grammar, spelling, mechanics, or punctuation.
In order for a piece of writing to reach its intended audience, two things are necessary: (1) the plot must provide the reader with something 'new', and (2) the 'style' must ensure that the reader can place himself in the story.
In order to enrich your language, use the following phrases/writing vocabulary:
to express the controlling idea:
for comparing:
for contrasting:
– the reasons for
– the causes of
– the effects of
– the steps for
– the procedure for
– the advantages of
– the disadvantages of
– the ways to
– the methods of
– the different sections
(parts, kinds, types) of
– the characteristics
(traits, qualities) of
– the problems of
– the precautions for
– the changes to
– alike
– like
– similar
– similarities
– just as
– the same
– identical
– also
– likewise
– comparable to
– equivalent
– resembles
– corresponds to
– by the same token
– unlike
– different
– differences
– in contrast
– whereas
– but
– more than
– less than
– is different from
– differs from
– worse
– better
– conversely
– on the other hand
Criticizing and revising:
outline criteria of the paper (standards or value);
examine criteria from your audience's point of view;
be sure to include supporting evidence for each criterion;
avoid overgeneralizing;
pay special attention to quotations;
revise sentences for direction and being clear;
signal major divisions using clear transitions;
edit for correct spelling, word choice, punctuation, grammar.
See also Essay Structure
Source: AEssay Team
If You find this article not helpful enough or You are not sure how to write a good essay, You can order it from our AEssay Custom Writing Team.