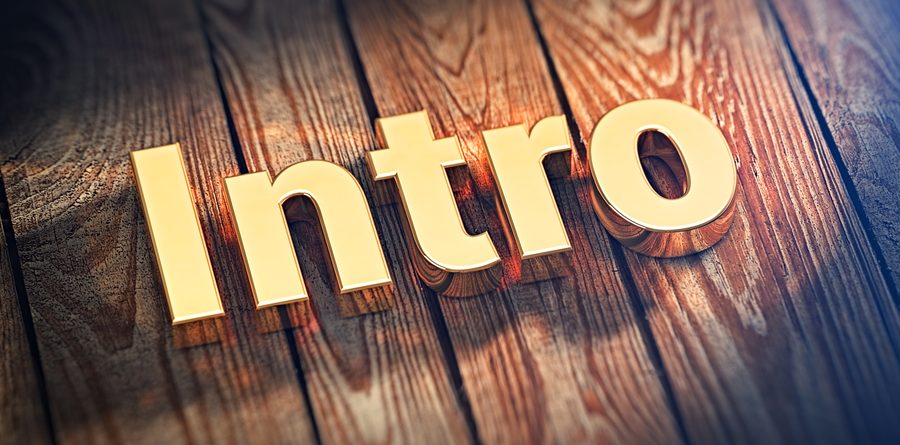 Writing Introductions
Writing introductions can be challenging because essays are often judged by their first paragraph. It is not only important to create a proper hook but also to draw the reader's attention and to inspire one to read the whole essay till the end.
Functions of an Introduction
To introduce your topic, provide essential background information and attract the reader's attention. Don't assume that your reader is familiar with or interested in your topic. Instead, attract your reader's attention by raising an interesting issue that your work will explore, and providing some background details.
It should tell the reader explicitly what the thesis (the point of your paper) is. Having read your introduction, the reader should know your central point.
It should establish the significance (importance) of your point. You should convince your reader that s/he should care about what you have to say.
It should give a 'road map' of how you are going to demonstrate your thesis. You should summarize how you are going to support your thesis, in order to prepare your reader and improve your reader's recognition and retention to the points you make. You can do this by providing a 'road map' showing the structure your writing will follow.
An example 'road map' (section from a longer introduction): "First, I will define key terms for my argument, and then I will provide some background of the situation. Next I will outline the important positions of the argument and explain why I support one of these positions. Lastly, I will consider opposing positions and discuss why these positions are outdated. I will conclude with some ideas for taking action and possible directions for future research."
An Effective Structure
Begin with a very general statement about the subject, then gradually narrow down to the specific thesis statement: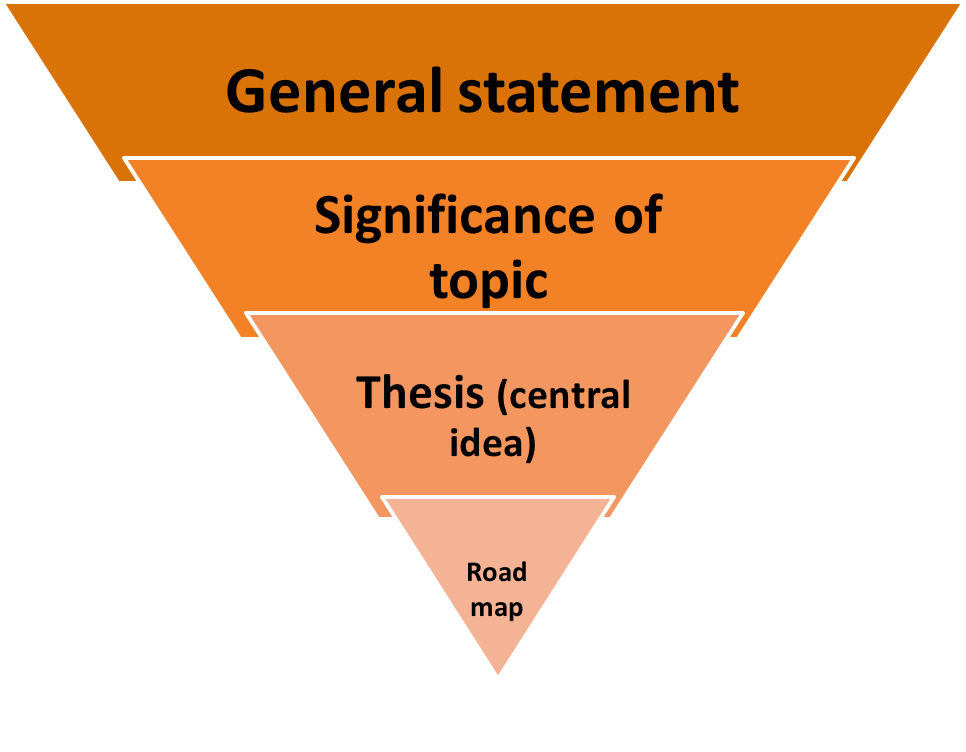 What should you NOT do in an introduction?
Write too much. Your introduction introduces the rest of your work. Its length must not be out of proportion to the whole. An introduction should be no more than 8-10% of your complete text.
Start with a cliché or generalization. Avoid clichés and generalizations anywhere in your work, but particularly in your introduction. A cliché is something that has been so overused that it has lost its original meaning and become boring and possibly even irritating.Examples include: As we all know….. Since the dawn of man…. A chain is only as strong as its weakest link…. Nowadays, all students use Facebook.
Start with a quote or paraphrase. Instead, you must start with your own words. You are making a general statement, after all.
An example: "In 1901, Pablo Picasso's closest friend, Carlos Casagemas, committed suicide, an event which shocked the young artist and drove him into a deep, guilt-laden depression <attracts reader's attention>. Indeed, in the aftermath of this tragedy, Picasso became superstitious in his fear of anything associated with death, an obsession which was reflected not just in his subsequent "blue period" paintings, but throughout his life <the significance of the topic>. The painting Picasso executed in response to Casagemas' death, paradoxically titled La Vie [Life] (1903), develops several of the distinctive motives that would become important to his later paintings <thesis statement>, including his ambivalent view of women, a close connection between love and death, and an intensely subjective viewpoint <road map>."
Another example: "Over the past twenty five years, since Australia embraced multiculturalism as a policy, issues of intercultural communication have become more and more prominent in the workplace<attracts reader's attention>. However, until relatively recently, little had been written on these issues, and even now, many organizational managers have no training or knowledge of how to deal with communication problems, even though most workplaces are staffed by people of diverse cultures. Particular problem areas include the difficulties that some non-English speakers have in understanding safety instructions (figures produced by the ABS in 1997 show that migrant workers have a higher incidence of accidents at the workplace); an ignorance of the different forms of non-verbal communication used by other cultures (for example it is considered impolite in some societies for an employee to look directly at his or her employer), which can lead to misunderstandings and unpleasantness; and the lack of knowledge about differing expectations <the significance of the topic>. Based on interviews with managers and staff in six organizations (public and commercial), this report examines these three problem areas <thesis statement>, and shows that many of the difficulties faced by both natives and migrants in the workforce are caused by a lack of awareness of, and training in, intercultural communication. <road map>"
Some Useful Phrases for Writing Introductions:
The purpose / aim of this paper / investigation / research / present study is to …
This paper reports on the results obtained …
This study was designed to …
In this paper, we give results of …
In this paper, we argue that …
This paper argues that …
This paper is structured as follows …
The remainder of this paper is divided into five sections …
Source: "Writing Introductions" by Caroline Brandt