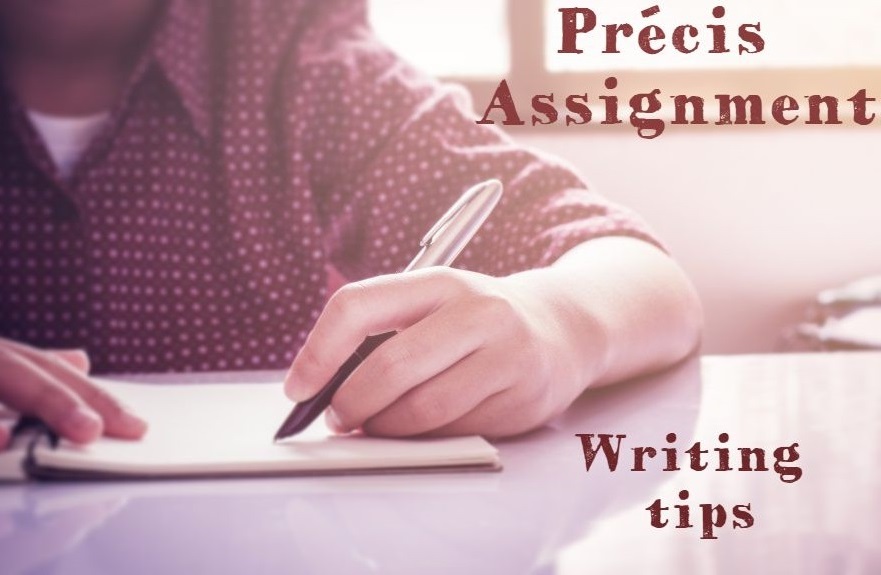 Précis Assignment Writing TIPS
A précis (pronounced "pray-see") is a type of summary or abridgment. Précis Assignment (also, préis assignment) is a type of academic assignment, which aims at summarizing and providing insight into a particular article, theory or piece of writing. Its goal is to analyze the arguments the author is making as well as the way they are made. Précis Assignment should be made in a particular format and demonstrate the student's ability to critically think and make insight into significant implications of the theory under discussion.
Start your Précis Assignment with a correct and full bibliographic citation in required format (MLA, APA, etc.) of the corresponding article or book chapter. The textual analysis of the article that follows usually consists of two distinct paragraphs.
The first paragraph of the analysis should identify the general focus of the theory and the author's major points or overall argument. In simple words, the introductory paragraph of the Précis Assignment presents the basic framework of the theory/opinion analyzed and all its important parts. It is not evaluates the theory yet.  The major purpose here is to summarize the overall argument made by the author, to explicate the logical thread of the argument, and to analyze the major kinds of support provided.
The second part of the assignment is more about discussing what other essential information is provided by the author of the analyzed piece of writing. It should also consider the major implications of the theory under discussion (the last sentence is preferred to do that). Extend the theorist's ideas and generate general claims implied.
General recommendations for writing your Précis Assignment include:
Make insight into significant implications of the theory.
Provide accurate and comprehensive summary of main points.
Demonstrate critical thinking.
Do not use direct quotes from the text; do not cite page numbers or the author as a source.
Do not use conversational style or personal examples.
Clear and succinct formulation of ideas and effective word choice are expected.
Correct grammar and spelling, careful proofreading is a must.
No plagiarism.
Hand in a printout of article with your précis.
Source: AEssay Team
If You find this article not helpful enough or You are not sure how to write a good admission essay, You can order Precis Assignment from our AEssay Custom Writing Team.